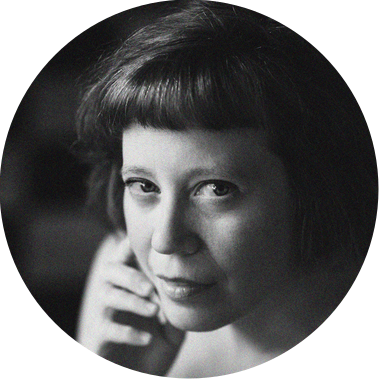 I am a female visual artist living in Hungary. I have always been artistic in a non-artistic family. In my early twenties I graduated as an economist, but that world has always been far away from me. I was constantly looking for myself, developing my creative self, but as I struggled with untreated OCD which was caused by a childhood trauma, I have begun my art career only in my late 30s after I started healing.
I had studied Textile design MA in Budapest, I graduated in 2020, and next to textile design I create in the field of experimental photography. Even my diploma project pointed into this direction: in my diploma award-winning work "You don't seem to be" I worked with a hybrid of photography and textile design, as I applied my self-portrait to a self-growing bacterial cellulose using photo emulsion and created a mask. During the year of the diploma project I also kept a photo diary, and this started creative processes in me that have continued ever since.
In my art I expand, cross and deconstruct genre and media boundaries with a sense of experimentation. I use a wide range of analog and digital techniques with a huge amount of freedom, from archaic techniques to digital image modification procedures. In addition, I like to use manual techniques, from sewing, cutting, folding to weaving, with which my works cross the border between photography and fine art and acquire a spatial dimension.
The primary medium of my art is consciously photography, as perhaps nothing is as close to depicting reality as photography. But that's not enough for me. On the one hand, although I want to show reality, more precisely, the reality of myself, but not quite the way traditional photography does. On the other hand, the methods of traditional photography strongly trigger my compulsions, while in experimental photography I find reassurance.

My works are inspired by my own history, my feelings, they are self-portraits, internal monologues in various forms and techniques.
Group

2023
S/ALON Interior Design Fair, Hello Hungarian Design - Budapest Aréna, Budapest, HU
SOL LDN (londoner Huxley-Parlour Gallery's online exhibition project) - online exhibition and fair
Wild wild life - Budapest Photo Festival, Vízivárosi Gallery, Budapest, HU
2022
7th Godot Art Fair - GODOT Institute of Contemporary Art, Budapest, HU
​FISE40 - B32 Gallery, Budapest, HU
​360 Design Budapest - Emerging Talents 2022 award, Bálna, Budapest, HU
Fashion for Bank Robbers, MaximiliansForum, München, DE
Passepartout Photo Prize - 28 Piazza di Pietra Fine Art Gallery, Rome, IT
​5th Rug Art Fest - SZETT members' rug design exhibition, MaxCity, Törökbálint, HU
​S/ALON Interior Design Fair - Budapest Aréna, Budapest, HU
​EXPERIMENT - Experimental photography in contemporary Hungarian photography, Budapest Photo Festival, Kiscelli Museum, Budapest, HU
INTRO - Budapest Photo Festival, Dokubrom Gallery, Budapest, HU
2021
Mushroom style (bio design exhibition and symposium) - Budapest Design Week 2021, Budapest Metropolitan University, Budapest, HU
​6th Godot Art Fair - GODOT Institute of Contemporary Art, Budapest, HU
​Infernal sins - Dante's inferno - Kispont Gallery, Budapest, HU
​"Dreaming in my garden" Rug design exhibition - FUGA, Budapest, HU
​Budapest International Foto Awards - House of Lucie, Budapest, HU
35th OTDK-OMDK (National Art Students' Associations Conference) - online exhibition
​Intervened Photography Month - Experimental Photo Festival, online exhibition
​Fresh FIShEs XIII. - Fise Gallery, Budapest, HU
2020
Lab_b103 - Textile MA diploma exhibition, Fise Gallery, Budapest, HU
​The Self(ie) and the other: Portraiture - PH21 Gallery, Budapest, HU
2023

Analogue Sparks - Bronze place in Fine Art/Experimental category
Analogue NOW - Berlin- Revelation open call
2022
Emerging Talents 2022 - Exhibition possibility on the exhibition 360 Design Budapest
​Passpartout Photo Prize - Exhibition Prize
​2021
IPA (International Photography Awards) 2021 - Honorable mention with 3 series
​Passepartout Photo Prize 3rd, Rome - Honorable mention
​PX3 Photo 2021 - Gold, silver, bronze places
​VIEPA 2021 (Vienna International Photo Award) - Honorable mention
IPA One shot / our times Pandemic perspectives - Honorable mention
35th OTDK-OMDK (National Art Students' Associations Conference) - CRAFT category, 1st place
​SZETT-RUGART / "Dreaming in my garden" - Rug design award, 1st place
7th FAPA (Fine Art Photography Award) - Photo manipulation category, 3rd place
2020

Budapest International Foto Awards - Best new talent
Diploma-award, Budapest Metropolitan University
2023-2024 Budapest Art Mentor, Fine Art mentor program
2018–2020 Budapest Metropolitan University, Textile designer MA

2015-2017 Budapest Fashion School, vocational training (OKJ), Fashion designer
2009 Szellemkép, Photography course
​2000–2004 Budapest Business School - Faculty of Commerce, Catering and Tourism - Department of Hospitality - Economist BA
2022 - SZETT (Rug Designer Association), HU

2021 - RANDOM (Contemporary Photo Artist Association), HU
2020 – FISE (Young Craftsmen Studio Association), HU